- Edgen Films Hosts, "From Art School To Avatar"
A LIVE ONE-OF-A-KIND PRESENTATION ON THE MAKING OF THE HIGHEST GROSSING MOTION PICTURE OF ALL TIME, AVATAR.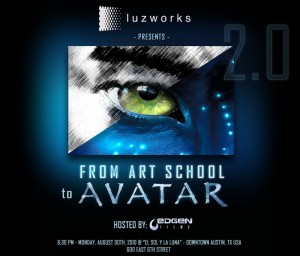 Edgen Films is proud to host the first in a series of special events entitled "2.0" brought to you by Austin based production company, Luzworks . To inaugurate the occasion, film designers TyRuben Ellingson and Yuri Bartoli will give a live presentation at 6:30PM on August 30th at El Sol y La Luna on 600 E 6th Street in Austin, TX. The two will talk about their unique and creative artistic contributions to the James Cameron classic movie AVATAR which is being re-released with additional scenes nationally August 27th.
PRESS:
FOR IMMEDIATE RELEASE:
A LIVE ONE-OF-A-KIND PRESENTATION

08.21.10

A LIVE ONE-OF-A-KIND PRESENTATION ON THE MAKING OF THE HIGHEST GROSSING MOTION PICTURE OF ALL TIME, AVATAR.

Edgen Films is proud to host the first in a series of special events entitled "2.0" brought to you by Austin based production company, Luzworks . To inaugurate the occasion, film designers TyRuben Ellingson and Yuri Bartoli will give a live presentation at 6:30PM on August 30th at El Sol y La Luna on 600 E 6th Street in Austin, TX. The two will talk about their unique and creative artistic contributions to the James Cameron classic movie AVATAR which is being re-released with additional scenes nationally August 27th. Ellingson and Bartoli will also make a special announcement during the evening with Jonathan de la Luz, President of Luzworks, as to their long term local filmmaking impact.

Edgen Films is an Austin based Film Development and Production company that prides itself on producing Studio quality films while maintaining it's Edgy, Indie-Austin spirit. Edgen Films believes strongly that The Austin Independent Film Industry is populated by amazingly talented, creative and hard-working people.   They take care to develop excellent relationships with other professional film entities in town.  These carefully tended alliances allow Edgen Films to leverage all of their skills and contacts into creating the highest quality projects for an Indie budget.  Edgen Films walks its talk by working with and developing local talent. "We all started somewhere, no matter how far we go, we should never forget where we came from. We want to give back and support the community that gives so much to us, and we do that by not only working with the Industry leaders of today, but by helping foster the talent of tomorrow, be it young, aspiring talent, producers, designers, production crew, or writers".   Edgen Films is savvy and bold in business, but above all else they believe in the talent and skills of their peers and of themselves and the ability of Austin to DELIVER.

The Players:

Justin R. Durban is an Artist Extraordinaire. From graphic design to composing the music that moves the film, from writing to directing, his passion and talent for all things film have lead him thru life and many successes. "We are fortunate to have an artist of his caliber as Creative Director of Edgen Films".  You can explore his epic body of work at www.justindurban.com

Nicholle Walton brings the perspective of a performing artist, as an actress and singer, and the moxy of a Southern girl with a keen head for business to Edgen Films. She works closely with her partners in building a company that works to redefine the Indie Film making industry, and to promote, support, and help build their local communities. She is currently producing the indie feature film Book of Babylon, with Arik Renee Avila and D7 studios.

Leah Weinberger is a writer who worked as a Coordinator of the Austin Screenwriters Group for 2009/2010.  Leah's favorite genre to write is Science fiction/Fantasy.  In particular, she loves creating fantastic worlds while exploring the human condition. She holds the position of the Director of Development for Edgen Films and works closely with writers in the development phase of their scripts and mentors emerging writers.  Look for her latest work, STASIS coming soon from Edgen Films.

How it all began:

In 2009, Leah wrote a Script BITS AND PIECES.

This film script was a winner of the 2009 Screenwriter of Austin Monsterfest Script Contest and is a product of the Austin Film Meet Monsterfest Pitch and Script Matchup in 2009. Leah and Justin met through the Pitch and Script Matchup in 2009.   Leah produced, Justin directed and Nicholle offered her performing talent.

Bits and Pieces went on to win second place in DVXUser.com's Monsterfest competition.

It was at that point the trio knew they were on to something, and talks began about joining there respective talents and setting up shop in Austin.

Their next collaboration was the Script RACK.  Justin Durban, Nicholle Walton and Leah Weinberger solidified their association by going on to Write, Produce, and Direct this Project for the prestigious Doorpost Film Festival.

RACK was a *Winner – Top 20 Finalist Films @ Doorpost Film Project

They continue to forge forward with their successes and seek to set and reach the higher bar with every step they take. With multiple projects in development and in working with other great local talents you can be sure to see great works of art that will move, inspire, and down right entertain! Feel it. Free.  www.edgenfilms.com

Join Edgen Films, Luzworks, and many other great Austin Film entities and supporters at what will surely be an inspiring and redefining Industry event. From Art School to Avatar 6:30PM on August 30th at El Sol y La Luna on 600 E 6th Street in Austin, TX

../ end