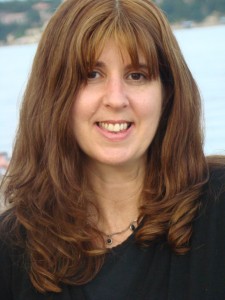 Contact:
leah@edgenfilms.com
Chief Sales Officer / Director of Development
Leah Weinberger is a true Renaissance woman. She combines superior story telling skills, a keen mind for business, and a passionate social activism like very few others.
Ms. Weinberger has worked with such organizations as Peace Now, the JSSA of Maryland, and the Junior League offering her skills and support with Research, Statistical Analysis, and Project Management. After arriving in Austin in the late 1990's, Ms. Weinberger became active in local community service through Chabad of Austin. Over the years she would use her skills to support the organization in Sales, Marketing, Promotions, and Fund Raising. She would also spend time with the local children, telling them fantastical tales of adventure, encouraging self reliance, independence, bravery, and social awareness. Ms. Weinberger's work with AARP contributed to successful passing of Texas Legislation Bill HB472, and she has served as an Ambassador for the City of Austin, facilitating growth thru new business expansion, development and relocation.
In 2004, she founded Austin Rosh Chodesh Women's Group aka The Seudah Chics. A social / service group whose works include the creation of a Mitzvah web ring to care for elderly and sick community members in need and organizing relief efforts for victims of Katrina.
Ms. Weinberger would go on to meld both her creative world and sense of social activism in her Art. Beginning in 2009 as a Coordinator of the Austin Screenwriters Group, she was able to combine her passion for and love of creative and philanthropic work in the form of Script Writing. Her desire to tell stories within fantastical worlds that explore the human condition would first come to the "Big Screen" in the short film BITS & PIECES. This would also pair Ms. Weinberger with her future business partners and lead to the formation of Edgen Films, LLC. Her favorite genre to write is Science Fiction/Fantasy and she enjoys working closely with writers in the development phase of their scripts. Look for her latest works, VIKINGS vs WEREWOLVES and FAIRY HILL, coming soon from Edgen Films.