- Edgen Films Hosts Screening to "Sarah's Key"
7.21.11
LOCAL AUSTIN BASED PRODUCTION COMPANY, EDGEN FILMS, TAPPED TO HOST A PRIVATE SCREENING OF THE WEINSTEIN COMPANY'S FEATURE FILM: SARAH'S KEY.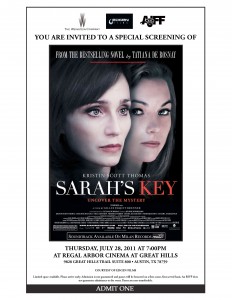 Edgen Films is proud to host a private screening of the Weinstein Co's SARAH'S KEY.
Adapted from the best selling Tatiana de Rosnay novel of the same name, Sarah's Key is a sensitive portrayal of a modern woman's search for truth that leads her to examine her own families role in the forced deportation of the French Jews by the Vichy government in 1942.
PRESS RELEASE:
FOR IMMEDIATE RELEASE:

7.21.11
LOCAL AUSTIN BASED PRODUCTION COMPANY, EDGEN FILMS, TAPPED TO HOST A PRIVATE SCREENING OF THE WEINSTEIN COMPANY'S FEATURE FILM: SARAH'S KEY.

Edgen Films is proud to host a private screening of the Weinstein Co's SARAH'S KEY.

Adapted from the best selling Tatiana de Rosnay novel of the same name, Sarah's Key is a sensitive portrayal of a modern woman's search for truth that leads her to examine her own families role in the forced deportation of the French Jews by the Vichy government in 1942.

Starring Kristin Scott Thomas, Mélusine Mayance, Niels Arestrup, and Michel Duchaussoy, this film is sure to have people talking. From its powerful storyline, to the beauty of its artistic expression SARAH'S KEY is a shining example of film making at it's very best and exactly the type of work the Austin Film Communities embrace.

Edgen Films and the Austin Jewish Film Society are honored to take part in assisting The Weinstein Company in bringing such a powerful, and thought provoking film to Austin.

This Premiere will take place July 28, 2011, 7pm at the Regal Arbor Cinema, 9828 Great Hills Trail Austin 78759 (512) 231-9742. Seating is limited, contact event@edgenfilms.com to reserve your free tickets and for more event information.

"Sarah's Key" Official Website http://weinsteinco.com/sites/sarahs-key/

../ end