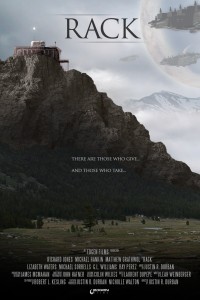 (2010)
Short Film
Synopsis:
A man attains all of his dreams, only to find out that the cost is the unrealized future of his mentally challenged beloved brother.
The Doorpost Theme: Sacrifice
Directed by: Justin R. Durban
Written by: Leah Weinberger
Awards:
**Top 20 in 2010 The Doorpost Competition.
*RACK is an official 'merited' entry to the Doorpost Film Project.
[divider]
View Film:

Cast:
Richard C. Jones, Lizabeth Waters, Matthew Grathwol, Michael Sorrells, & Michael Hankin
Crew:
Directed by: Justin R. Durban
Written by: Leah Weinberger
Executive Produced by: Nicholle Walton, Leah Weinberger, & Justin R. Durban
Music by: Justin R. Durban
Edited by: Laurent Dupepe
Full Credits:
//DIRECTOR: Justin R. Durban
//WRITEN By: Leah Weinberger
//CAST
Lizabeth Waters as Ella
Matthew Grathwol as John
Richard Jones as Deke
Michael Hanklin as Old Ben
Michael Sorrells as Foreman
Miner #1: G.L.Williams
Miner #2: Ray L. Perez
Vat Guy #1: Justin Elms
Vat Guy #2: Charles K. Comis
Village Extra: Betty Currie
Village Extra: Tristin Koppie
Village Extra: Myndin Durban
Village Extra: Kaden Lauderback
Village Extra: Kristin Lauderback
Village Extra: Logan Hansen
Village Extra: McKala Hansen
Village Extra: Paige Hansen
Village Extra: Rita Simonette
Village Extra: Leah Simonetta
Village Extra: Zane Farrow
Village Extra: Isac Mourana
Village Extra: Mary Stifflemore
Village Extra: Nicholas Glover
Village Extra: Jill Glover
Village Extra: Sky Van Vliet
Village Extra: Rick Richardson
//PRODUCER(s)
Executive Producer: Justin R. Durban
Executive Producer: Nicholle Walton
Executive Producer: Leah Weinberger
Co. Producer: Robert R. Kiesling
//CREW
Boom Operator: Ryan Mozek
Production Designer / Set Designer: James McMahan
First AC / 2nd Unit Camera Op: Rocky Conly
UPM / First AD: Nicholle Walton
Director of Photography: John Hafner
Best Boy Grip: Matthew Hardesty
Sound Mixer: Amy Tekell
Costume Designer: Colin Wilkes
Makeup: Erin Klarer
Script Supervisor: Cari Jean
Construction Coordinator: Bob Maccarni
Locations Manager: Brian Morgan
Art Director / Props Master: Shane Davis
Casting Director: Nicholle Walton
PA: Aaron Benmark
PA: Charles K. Comis
PA: Stephanie Harrison
PA: Rodney Barry
PA: Leng Wong
PA: Jonathan Grubbs
PA / Sound Team: Shane Hardesty
Edited By: Laurent Dupepe
Compositor / VFX: Jonathan Grubbs
Compositor / VFX: Mark Roethke
Compositor / VFX: Galen Carter-Jeffrey
Compositor / VFX: Kurt Lawson
3D Modeler: Shane Davis
Digital Matte Painter: Brandon Hale
Opening Title Design: Jonathan Grubbs
Second AC / 3rd Unit Camera Op: Joy Chiang
Key Grip: Robert Cudmore
Music Composer / Sound FX / Lead Visual FX : Justin R. Durban
// SPECIAL THANKS
Special Thanks: Ocher Media
Special Thanks: Matahari Pictures
Special Thanks: Placid Sound
Special Thanks: Three Points Ranch
Special Thanks: Lakeway, TX City Park
Special Thanks: Olden Lighting
Special Thanks: Patti Shook
Special Thanks: H-E-B
Special Thanks: Austin Film Meet
Special Thanks: Screenwriters of Austin
Special Thanks: Dan Eggleston
Special Thanks: Short Film Texas
Special Thanks: Adobe
Special Thanks: Richard and Maryann Durban
Special Thanks: Jack Daniel Stanley
Special Thanks: Mark Vittek
Special Thanks: Pamela Weaver
Special Thanks: Carlos Fernandez
Special Thanks: Tony Crossley
Special Thanks: Elliot Cole
Special Thanks: Shiphrah Meditz
Special Thanks: Mishpacha
Special Thanks: Jeremy Norton
Special Thanks: Joshua Norton
Special Thanks: Gustavo Rodriguez
: Shot on Canon 7D
Stills: