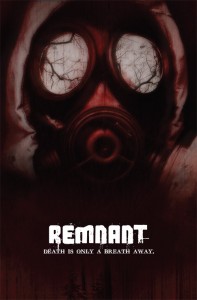 Death Is Only A Breath Away…
Synopsis:
Ten years have passed
since the Outbreak.
There are survivors.
Hiding. Fleeing.
Fighting for existence.
In aftermath of an apocalyptic epidemic, they evade a brutal militia, lingering disease… & each other.
Yet within a hidden cabin in the woods, Edward and Sandra live out a quiet existence just below the radar. Until a young man arrives.
Injured, and with an unlikely story, he sets off a firestorm of forgotten desires and dreams which are further fueled by the appearance of his girlfriend Ellen – a strong and striking young woman with a secret.
About The World:
Remnant takes places in a bleak and colorless world, one in which the sun can never seem to break through the overcast skies.
The trees are bare with limbs like skeleton bones and endless snow covers everything that was once fresh and alive.
Written and Directed by: Marko Slavnic