Storytelling Leads Orthodox Jewish Woman to Austin-Based Film Career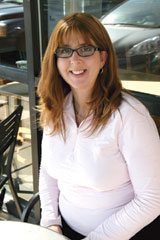 Wednesday, 01 February 2012
By Andrea Abel
How does a nice Orthodox Jewish girl become a science fiction film producer and screenwriter?
As Austinite Leah Weinberger tells it, the job grew out of her love for telling stories to children at Chabad; the rest just seemed to fall into place. "I fell into it backwards," she said.
A bit of a modest account, perhaps. But as Weinberger related her story, hers is a journey of being in the right place at the right time, a proper amount of self-confidence and chutzpah, and strong creative and business instincts.
"Adults would listen and say, 'you are such a good story teller!'" Weinberger said describing her Chabad storytelling sessions in a recent interview. She told the children stories of shipwrecked Marrano Jews and made up a character named Golda Lox for another tale. "I kept these stories going back and forth," she said, adding chapters each week.
In 2008 Weinberger reached a point in her life where she had more time to pursue her professional life. Given her passion for reading and her affinity for storytelling, Weinberger decided to try writing. "I went to a short-story meet-up," she said.
She received positive feedback and the short story meet-up which gave her the confidence the drive to widen her professional search.
"Next, I wanted to learn how to write scripts," said Weinberger. She heard about the Screenwriters of Austin and attended one of their meet-ups. "Within three months, Clint Watson and I are running (the group) together. I didn't really have the background, but I can read a story,"
Weinberger said. The group, including Weinberger, decided to sponsor a Short Script and Pitch Contest. With the submission deadline the next day, Weinberger regretted that her role on the contest committee precluded her from submitting stories to the contest. She consulted with fellow committee members who encouraged her to submit anonymously. With the help of a late-night coffeehouse, Weinberger entered two stories which took first and second place in the contest.
This lead Weinberger to join a filmmakers meet-up run by H. Cherdon Bedford, executive director of Austin Film Meet which discusses screenwriting as well as the nuts-and-bolts business-end of film production. Weinberger discovered that she was drawn to the business end of the film industry.
In the meantime, filmmaker and composer Justin Durban picked up Bits and Pieces, one of Weinberger's winning scripts, offering to make it into a short film. For a total cost of $300, Weinberger, Durban, and their crew headed to Elgin where they filmed in the back room of a curio shop. In 2009, the film won the second place jury vote and third place overall for the DVXuser.com Horrorfest Short Film Competition, a competition held four times a year with a different theme each time.
The other script became the short film "Rack," also produced by Weinberger and Durban. Entered into the 2010 Doorpost Film Project Short Film Contest, the film was selected as a top 20 finalist out of about 2,000 submissions.
Today, Durban, Weinberger, and Durban's wife Nicholle Walton make up Edgen Films, a production company. According to Weinberger, she and Walton handle the business end of the company while Durban focuses on creative aspects.
"Anybody with a camera can shoot a film. The key is to shoot something good and do something with it afterwards and leverage that," said Weinberger.
Weinberger likes the business aspect of film. "I never had a background in film. I never had a background in writing. But, I have good business sense. My father owns his own business. I think I absorbed a lot. Being smart doesn't hurt. A lot of this stuff is patience and a certain sense of maturity. I don't know if I were 20 if I would have done as well," she said.
One of Edgen's current projects is the film, "Curse of Babylon," a feature length science fiction film made in association with D7 Studios. Walton and Weinberger worked in the film's production office handling everything from permits, casting, and insurance. Now in post-production, Edgen is involved in furthering the film's distribution and sales. "We pre-sold rights to China for top dollar. The Sci-Fi Channel (now known as Syfy) wants to see it when it's done," Weinberger said.
With a handful of other projects in various stages of development, the growing production company currently is seeking active investors.
Armed with a knack for business, a creative spirit, and a sense of adventure, Weinberger is ready to take on bigger and bigger professional challenges. Weinberger reflected, "I stop and think, how did this ever happen? But, I've found out I can do tons of stuff that I never thought I could do. I think it's the 40+ age thing."
For more information, visit www.edgenfilms.com, www.austinscreenwriters.org and www.austinfilmmeet.com.